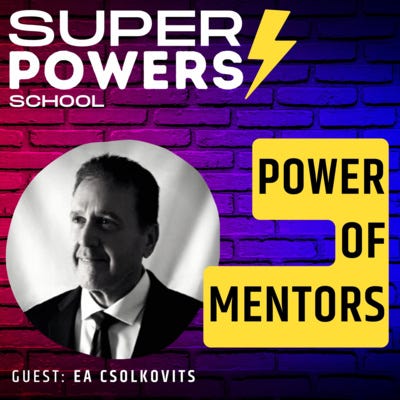 Jun 7, 2022 • 27M
E15: Entrepreneurship - Discover the Benefits of Having a Mentor in Your Life - EA Csolkovits (Entrepreneur)
If knowledge is power, then learning is a superpower. Research shows the average professional invests just 1% (24 mins) of their time per week in formal learning. In each episode, I explore a new superpower to help you unleash your human potential in the age of AI. Join Paddy Dhanda for a regular dose of inspiration from successful entrepreneurs, thought leaders and practitioners to help you build your human skills for the future. Learn about empathy, collaboration, creativity, agility, productivity, leadership, coaching and many more…
In each episode, Paddy deep dives into a new human Superpower and practical advice on how you can apply it immediately.
⚡️ Discover the Benefits of Having a Mentor in Your Life
Mentorship is a powerful tool for anoyone looking to achieve long term goals - and it can make a huge difference in the success of any business. But it's not just about having a mentor. It's also about having the right mentor. In this episode, we explore the power of mentors and how EA Csolkovits has used mentorship to help grow his business. We'll explore the positive impact mentors can have on a business, and how to find the right mentor for you.
EA Csolkovits (Entrepreneur)
E. A. Csolkovits was born in 1956 in Chicago, Illinois. His humble beginnings were that of the son of a milkman. At age 16, he started his business career at a commission sales job selling janitorial services to business owners. At the age of 19, E. A. Csolkovits met Sam Robbins, a millionaire business man from Detroit, Michigan. Sam took E. A. Csolkovits under his wing and began to mentor him. E. A. Csolkovits began working for Sam at the House of Holland Jewelers in the diamond business. In 1980, Sam established a private grant meant to be a part of Sam's legacy due to his lifelong fight with diabetes. Due to this grant in 1980, Sam and E. A. Csolkovits began to formulate heart healthy and Wellness nutritional foods and drinks. Over the next 45+ years, E. A. Csolkovits was blessed with the following business and personal achievements. Professional Achievements: • Chairman of House of Holland Jewelers at 21 years old. • Started and operated Columbia Nutrition System, consisting of an international workforce organization of over 10,000 managers and professionals. • Started and operated Delta International, which included building an international workforce organization of over 33,000, producing multimillions of dollars in volume. • Hosted a business radio talk show (E. A. Csolkovits Live) which was heard across the U.S.A. and Canada, interviewed 3 different company presidents for 5 nightly shows each week. • High-end, Results-oriented business consultant who received as much as $1,500 per hour for his business advice. Other Business Interests Include: • Conducted advanced training exclusively for presidents and CEOs (a maximum of 50 per seminar) where executives paid $5,000 each to attend and learn over 410 different ways to build and grow their companies. • National Training Company—listed in "Who's Who" in public speaking. • Mortgage business- originated, processed, and packaged large, multi-million-dollar packages. • Authored weekly newsletters which were distributed in 20 countries. • Created, designed, invented, reformulated, and/or formulated over 75 products in the health and Wellness industry. • Distributed products in 20 countries worldwide. • Extensive manufacturing expertise. • Established and developed worldwide distribution and sales sys --- Send in a voice message: https://anchor.fm/superpowers-school/message