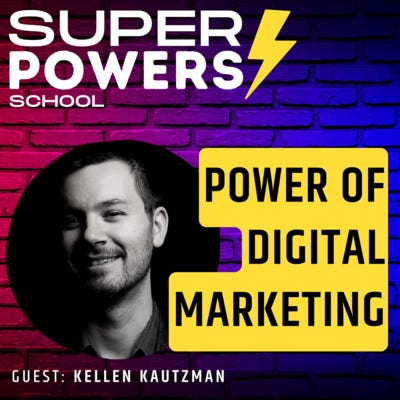 May 24, 2022 • 21M
E11: Self-Help - Utilise Digital Marketing to Reach More Consumers - Kellen Kautzman (Digital Marketing Expert)
If knowledge is power, then learning is a superpower. Research shows the average professional invests just 1% (24 mins) of their time per week in formal learning. In each episode, I explore a new superpower to help you unleash your human potential in the age of AI. Join Paddy Dhanda for a regular dose of inspiration from successful entrepreneurs, thought leaders and practitioners to help you build your human skills for the future. Learn about empathy, collaboration, creativity, agility, productivity, leadership, coaching and many more…
In each episode, Paddy deep dives into a new human Superpower and practical advice on how you can apply it immediately.
⚡️ Utilise Digital Marketing to Reach More Consumers
Digital marketing has become one of the most powerful forces in the modern business world. From how we reach potential customers to how we build relationships with them, digital marketing has revolutionized the way businesses communicate with their audiences. Kellen Kautzman is a digital marketing expert who has helped countless businesses leverage the power of digital marketing to grow their brands and reach their goals. In this episode, we explore the power of digital marketing and how it can be used to maximize your business potential.
Kellen Kautzman (Digital Marketing Expert)
Kellen owns Send It Rising Internet Marketing and manages a team of over 20 internet marketing professionals. His book "Everybody's Doing It | Advertising Redefined by SEO Expert Kellen Kautzman" was the #1 New Release on Amazon.com in the SEO category. His articles have been featured in the Las Vegas Business Press. He was the keynote speaker at Planet Hollywood on the Las Vegas strip and has spoken at Roseman University and the Lance Tamashiro podcast. Kellen holds a master's degree in education and taught for 5 years before transitioning into his career as an internet marketer.
👉 Podcast Website: https://www.superpowers.school/
👉 YouTube: https://www.youtube.com/c/paddydhanda/
👉 Contact Paddy at: pardeep_dhanda (at) hotmail.com
★ BUY ME KO-FI ★
If you enjoy the podcast, then you can donate a small amount here as a token of your appreciation: https://ko-fi.com/paddydhanda
--- Send in a voice message: https://anchor.fm/superpowers-school/message