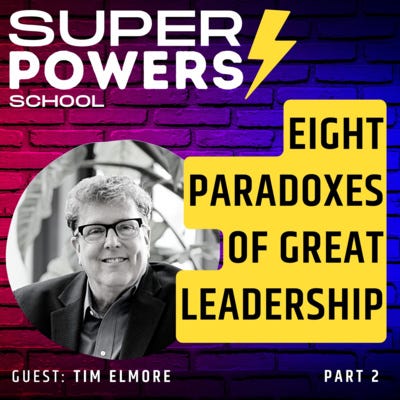 May 19, 2022 • 18M
E10: Leadership - Eight Paradoxes Of Great Leadership Book Part 2 - Tim Elmore (Author)
If knowledge is power, then learning is a superpower. Research shows the average professional invests just 1% (24 mins) of their time per week in formal learning. In each episode, I explore a new superpower to help you unleash your human potential in the age of AI. Join Paddy Dhanda for a regular dose of inspiration from successful entrepreneurs, thought leaders and practitioners to help you build your human skills for the future. Learn about empathy, collaboration, creativity, agility, productivity, leadership, coaching and many more…
In each episode, Paddy deep dives into a new human Superpower and practical advice on how you can apply it immediately.
⚡️ Eight Paradoxes Of Great Leadership Book Part 2
Great leadership is a paradox - it requires both strength and vulnerability; the ability to serve and the capacity to lead. Tim Elmore's new book, Eight Paradoxes of Great Leadership, explores how effective leaders can balance these seemingly contradictory traits to become successful in their field. With examples ranging from corporate executives to religious leaders, Elmore provides a comprehensive guide on how to lead with both power and compassion. Discover the secrets to great leadership with Tim Elmore's Eight Paradoxes of Great Leadership.
Dr. Tim Elmore (Author)
Is founder and CEO of Growing Leaders (www.growingleaders.com), an Atlanta‐based non‐profit organization created to develop emerging leaders. His work grew out of 20 years serving alongside Dr. John C. Maxwell. Elmore has appeared in The Wall Street Journal, the Washington Post, USA Today, Psychology Today and he's been featured on CNN's Headline News and Fox and Friends to talk about leading multiple generations in the marketplace. He has written over 35 books, including Habitudes: Images That Form Leadership Habits and Attitudes.
👉 Podcast Website: https://www.superpowers.school/
👉 YouTube: https://www.youtube.com/c/paddydhanda/
👉 Contact Paddy at: pardeep_dhanda (at) hotmail.com
★ BUY ME KO-FI ★
If you enjoy the podcast, then you can donate a small amount here as a token of your appreciation: https://ko-fi.com/paddydhanda
--- Send in a voice message: https://anchor.fm/superpowers-school/message