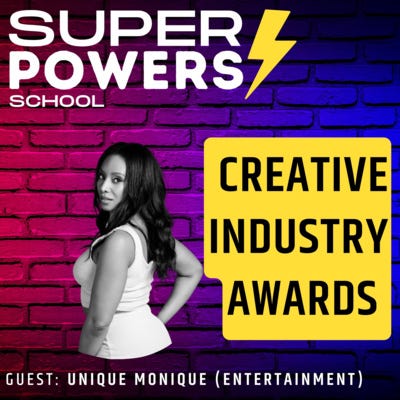 Aug 22, 2022 • 33M
BONUS E2: Entrepreneurship - How I Launched The Creative Industry Awards - Unique Monique (Entertainment Entrepreneur)
If knowledge is power, then learning is a superpower. Research shows the average professional invests just 1% (24 mins) of their time per week in formal learning. In each episode, I explore a new superpower to help you unleash your human potential in the age of AI. Join Paddy Dhanda for a regular dose of inspiration from successful entrepreneurs, thought leaders and practitioners to help you build your human skills for the future. Learn about empathy, collaboration, creativity, agility, productivity, leadership, coaching and many more…
In each episode, Paddy deep dives into a new human Superpower and practical advice on how you can apply it immediately.
⚡️ How I Launched The Creative Industry Awards
As a creative entrepreneur, Unique Monique was determined to make a meaningful impact in the entertainment industry. So, she decided to launch the Creative Industry Awards - an event that celebrates the best of the creative industry. It has been an incredible journey that has seen Unique Monique bring together a diverse range of industry professionals, from all over the world, in one place to recognize the outstanding work being done in the creative sector. Join us in this episode as we hear this remarkable story.
Unique Monique
Is a presenter, actress and founder of the Creative Industry Awards, with over 14 years experience in the creative industry. She started off her career as an MUA for YSL, she then swiftly moved into the modelling world firstly as a pageant contestant before collaborating with brands such as Nintendo, Lacoste and Bacardi. Her passion for acting lead her to audition and successfully secure a place IDSA where she studied an array of acting disciplines. She has appeared in music videos, hosts runway shows and has secured featured roles in short films due for release later on in the year. Monique is also a fashion show presenter, runway choreographer and sits on the casting panel for Fashion Show Live during London Fashion Week and Birmingham Fashion Festival. Her experience of working in a variety of disciplines and platforms in the creative industry has helped her build a portfolio of amazing contacts, business partners and friends.
👉 Podcast Website: https://www.superpowers.school/
👉 YouTube: https://www.youtube.com/c/paddydhanda/
👉 Contact Paddy at: pardeep_dhanda (at) hotmail.com
★ BUY ME KO-FI ★
If you enjoy the podcast, then you can donate a small amount here as a token of your appreciation: https://ko-fi.com/paddydhanda
--- Send in a voice message: https://anchor.fm/superpowers-school/message