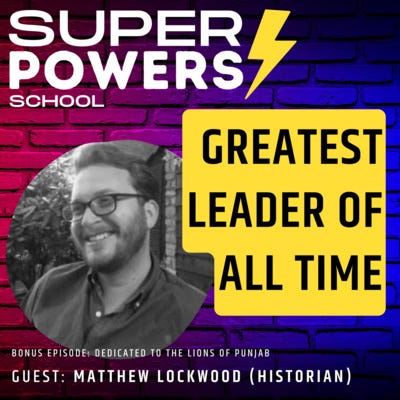 Jun 17, 2022 • 46M
BONUS E1: Leadership - Who Is The Greatest Leader Of All Time In History (BBC Poll) - Matthew Lockwood (History Professor)
If knowledge is power, then learning is a superpower. Research shows the average professional invests just 1% (24 mins) of their time per week in formal learning. In each episode, I explore a new superpower to help you unleash your human potential in the age of AI. Join Paddy Dhanda for a regular dose of inspiration from successful entrepreneurs, thought leaders and practitioners to help you build your human skills for the future. Learn about empathy, collaboration, creativity, agility, productivity, leadership, coaching and many more…
In each episode, Paddy deep dives into a new human Superpower and practical advice on how you can apply it immediately.
⚡️ Who Is The Greatest Leader Of All Time In History (BBC Poll)
In this episode, we attempt to answer who is the greatest leader of all time. The BBC History magazine ran a poll and asked over 5000 history scholars to vote on this very question. The winner won by 38% of the overall votes and Matthew Lockwood (History Professor at University of Alabama) was the historian who had put this great leader forward. The results have had a life changing impact on Matthew's life. Out of all of the episodes I have ever recorded on this podcast, this has to be the one that has had the biggest impact on me personally.
This episode is dedicated Sidhu Moose Wala (one of the biggest Punjabi singers of all time who passed away on 29th May 2022). He was a creative genius who has left a lasting legacy for all Punjabi's to follow: https://en.wikipedia.org/wiki/Sidhu_Moose_Wala
Matthew Lockwood (History Professor)
Education: BA, University of Maryland; MA Boston College; PhD, Yale University. Employment: Fellow, Yale Center for the Study of Representative Institutions; Assistant Professor, University of Warwick; Assistant Professor, University of Alabama. Books: "The Conquest of Death: Violence and the Birth of the Modern English State" (Yale University Press, 2017); "To Begin the World Over Again: How the American Revolution Devastated the Globe" (Yale, 2019) a New York Times "editor's choice" selection and a "Best Book of 2019," in the Financial Times; "Island Refuge: the Story of Exiles and Refugees in Britain from Constantine to Climate Change" (William Collins, forthcoming Autumn 2023). Media: my work has been reviewed by or appeared in The New York Times, the Financial Times, the TLS, the New York Review of Books, Atlas Obscura, the Times of London, the Times of India, and the Economic Times among other publications.
👉 Podcast Website: https://www.superpowers.school/
👉 YouTube: https://www.youtube.com/c/paddydhanda/
👉 Contact Paddy at: pardeep_dhanda (at) hotmail.com
★ BUY ME KO-FI ★
If you enjoy the podcast, then you can donate a small amount here as a token of your appreciation: https://ko-fi.com/paddydhanda
--- Send in a voice message: https://anchor.fm/superpowers-school/message